Your specialists for capillary electrophoresis
Are you looking for a reliable partner for capillary electrophoresis (CE)? Look no further, we are the comprehensive consultants you need.
With our 20-year experience in creating applications in the field of CE we can help you in solving your analytical requirements also in regulated environment. Quality and reliability of method are our priority.
Information on the theory and analytical application of capillary electrophoresis can be found here:
kapillarelektrophorese.eu
We are also engaged in research and development. ICA's research activities in 2021 and 2022 were recognized with the "Innovative through Research" seal of approval.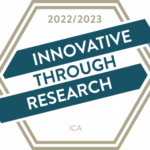 So, if you have any questions or suggestions concerning chemical-analytical issues and especially capillary electrophoresis, please do not hesitate to contact us. This is how you can contact us:
ICA GbR
Dr. Boden / Dr. Haumann / Dr. Mainka
Robert-Bosch-Str. 42
63225 Langen
Tel.: ++49 (0)6103 – 8044090
Email: email hidden; JavaScript is required